Exploring the Wonders of American Caves and Caverns: A Subterranean Odyssey
Embarking on a spelunking adventure unveils a hidden world beneath the Earth's surface, where astonishing formations, ancient history, and captivating stories await. From underground mansions to lava flows, and bat colonies to prehistoric tracks, the United States boasts a multitude of awe-inspiring caves and caverns. Join us as we delve into the depths of these incredible natural wonders, perfect for family trips and intrepid explorers alike.
List of Wonders of American Caves and Caverns
Natural Bridge Caverns
Meramec Caverns
Caverns of Sonora
Polar Caves
Moaning Cavern
Mammoth Cave
Carlsbad Cavern National Park
Ohio Caverns
Kartchner Caverns State Park
Luray Caverns
Jewel Cave
Lost Sea Caverns
Blanchard Springs Caverns
Ape Cave
Niagara Cave
The Wonders of American Caves and Caverns
Natural Bridge Caverns:
Beneath the surface near New Braunfels, Texas, lies the breathtaking Natural Bridge Caverns, Texas's largest underground marvel. These caverns, constantly evolving, retain their enchanting waxy luster. Guided tours, including the Bracken Bat Flight Tour, offer glimpses of the world's largest bat colony at Bracken Cave.
Read More: 10 Marvelous Rock Formations in the World
Meramec Caverns:
Nestled in the serene landscapes of Missouri's Ozark Mountains, Meramec Caverns beckons with a unique allure. Witness an underground mansion and the mysterious "Wine Table," crafted from ancient limestone. This cavern's history runs deep, with traces of pre-Columbian Native American artifacts etched into its limestone walls.
Caverns of Sonora: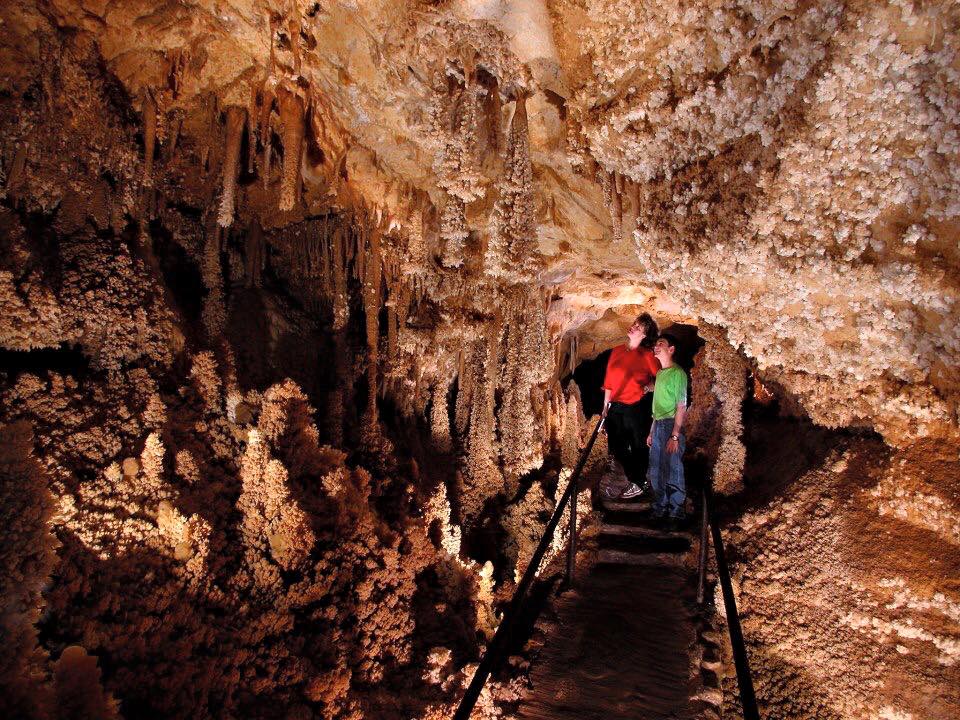 Between Big Bend National Park and San Antonio, Texas, lies the Caverns of Sonora, a thriving underground wonderland. Over 95% of its formations continue to evolve, making it one of the most dynamic caves worldwide. Camp under the stars nearby and indulge in fresh cream and butter fudge made right at the caverns.
 Read More: 10 Largest Freshwater Lakes in The World
Moaning Cavern:
In Vallecito, California, Moaning Cavern's intriguing name stems from the sound that reportedly lured gold miners to its entrance. Brave explorers can choose to take a walking tour or rappel down a 165-foot vertical shaft in the cavern's main chamber. The cavern holds the remains of prehistoric beings, a testament to its ancient past.
Polar Caves:
Polar Caves is a unique natural attraction located in New Hampshire, formed by the geological forces of a continental glacier around 50,000 years ago. These captivating caves offer visitors a chance to explore a subterranean wonderland, complete with intriguing rock formations, narrow passages, and awe-inspiring geological features.
Read More: Types of Cave Found in The World
Mammoth Cave:
Kentucky's Mammoth Cave National Park houses the world's longest cave system, stretching over 400 miles. Explore its vast chambers and intricate passages through guided cave tours, ranger-led nature treks, and outdoor activities set amidst the beauty of the Green River Valley.
Carlsbad Cavern National Park:
New Mexico's Carlsbad Caverns hosts over 118 known caves, formed over millions of years by sulfuric acid's interaction with limestone. Visitors can marvel at the stunning formations that flourished during the last ice age. Pine forests that once graced the landscape above the cave have left their mark below.
Ohio Caverns:
Ohio Caverns boasts some of the most vibrant crystals in the U.S. This 35-acre park invites visitors to pan for gemstones and minerals, engage in guided tours, and explore diverse cavern features.
 Read More: 10 Magnificent Stacks Around the World
Kartchner Caverns State Park:
Experience the natural beauty of Arizona's Kartchner Caverns Park, where hidden passages unfold in a 2.4-mile underground network. The Throne Room and Big Room captivate with their stunning stalactites and awe-inspiring columns.
Luray Caverns:
In Virginia, Luray Caverns welcomes over a million visitors each year to witness its subterranean marvels. Walkways guide explorers through Giant's Hall, Dream Lake, and more, revealing a world beneath the surface that captivates the imagination.
Jewel Cave: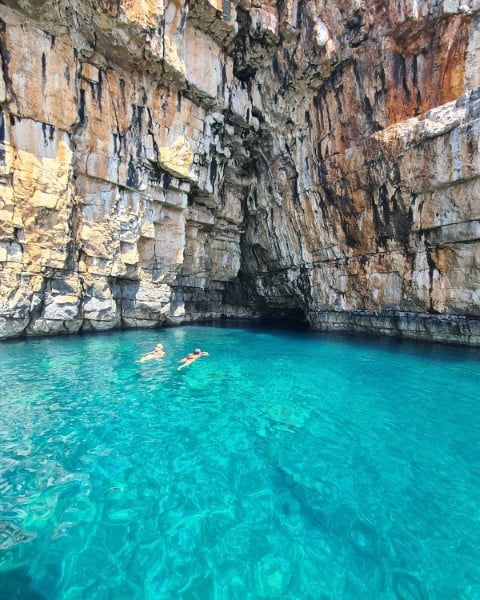 South Dakota's Jewel Cave boasts over 166 miles of intricate passages. Its "Big Duh" room, one of the largest in the world, measures an impressive 570 feet long and 180 feet wide. Adventurous souls can embark on wild caving tours, learning about caving techniques and safety.
Read More: Top 10 Natural Wonders of the World
Lost Sea Caverns:
In Sweetwater, Tennessee, The Lost Sea beckons with the allure of the second-largest non-subglacial underground lake in the world. Explore Cherokee artifacts and walk in the footsteps of a giant Pleistocene jaguar within the depths of this captivating cave system.
Blanchard Springs Caverns:
Arkansas' Blanchard Springs Caverns, nestled beneath Ozark National Park, offers varying levels of tours. Discover water-carved passages, an underground river, and the breathtaking world of constantly changing formations.
Read More: 10 Breath-taking Places You Must Visit Before You Die
Ape Cave:
Washington State's Ape Cave, the longest continuous lava tube in the U.S., reveals awe-inspiring views of Mt. St. Helens. This geological wonder showcases the powerful forces that shaped the Cascade Mountain Range.
Niagara Cave:
Nestled in Harmony, Minnesota, Niagara Cave stands among the top U.S. caves. Visitors are treated to a 60-foot waterfall, gemstone and fossil mining, and the unique charm of a wedding chapel within the cave.
About Author