Marvels of Nature: Top 10 Highest Waterfalls in India
India, a land of diverse landscapes and natural beauty, is blessed with an abundance of breathtaking waterfalls. These cascading wonders not only mesmerize with their awe-inspiring beauty but also provide a refreshing escape from the hustle and bustle of city life.
From the snow-capped mountains of the north to the lush Western Ghats in the south, India's waterfalls offer a diverse range of experiences for nature enthusiasts and travelers alike. Join us as we explore the top 10 highest waterfalls in India, each a testament to the raw power and magnificence of nature.
Jog Falls, Karnataka
Topping our list is Jog Falls, located in the Shimoga district of Karnataka. Plunging from a height of approximately 830 feet, this four-tiered waterfall is a sight to behold. During the monsoon season, the Sharavathi River gushes down the rugged cliffs, creating a breathtaking spectacle that has captivated visitors for generations.
Kunchikal Falls, Karnataka
Coming in second is another gem from Karnataka – the Kunchikal Falls. This towering cascade descends from a height of around 1,493 feet, making it one of the tallest waterfalls in India. Nestled amidst the Western Ghats, the falls offer a picturesque view, especially during the rainy season.
Read More: Top Natural Places To Visit In Madhya Pradesh During Monsoon
Nohkalikai Falls, Meghalaya
Heading to the northeastern part of India, we find the stunning Nohkalikai Falls in Meghalaya. Plummeting from a height of approximately 1,115 feet, this waterfall is renowned for its surreal turquoise pool and its backdrop of lush greenery, making it a photographer's paradise.
Dudhsagar Falls, Goa
The "Sea of Milk" waterfall, or Dudhsagar Falls, takes the fourth spot on our list. Located in Goa, this four-tiered spectacle stands tall at around 1,017 feet. Surrounded by a rich tapestry of flora and fauna, the falls are accessible via an adventurous trek through the Bhagwan Mahavir Wildlife Sanctuary.
Read More: Pachmarhi In the rainy season: Time To Experience The Vibrant Colors Of The Satpuras
Langshiang Falls, Meghalaya
Meghalaya returns to the list with Langshiang Falls, a hidden gem that drops from an impressive height of approximately 1,106 feet. Situated near Mawsynram, one of the wettest places on Earth, these falls offer a serene and unspoiled experience for those willing to venture off the beaten path.
Meenmutty Falls, Kerala
Venturing south to Kerala, the Meenmutty Falls earns its place on the list with a height of around 2,000 feet. Surrounded by lush forests and accessible via a moderately challenging trek, this three-tiered waterfall promises a rewarding experience for nature enthusiasts.
 Read More: Top 10 Natural Wonders of the World
Thalaiyar Falls, Tamil Nadu
Located amidst the scenic beauty of Tamil Nadu's Palani Hills, the Thalaiyar Falls stands at a towering height of about 2,460 feet. Also known as the Rat Tail Falls, its dramatic plunge down the rocky cliffs is a sight to behold.
Barehipani Falls, Odisha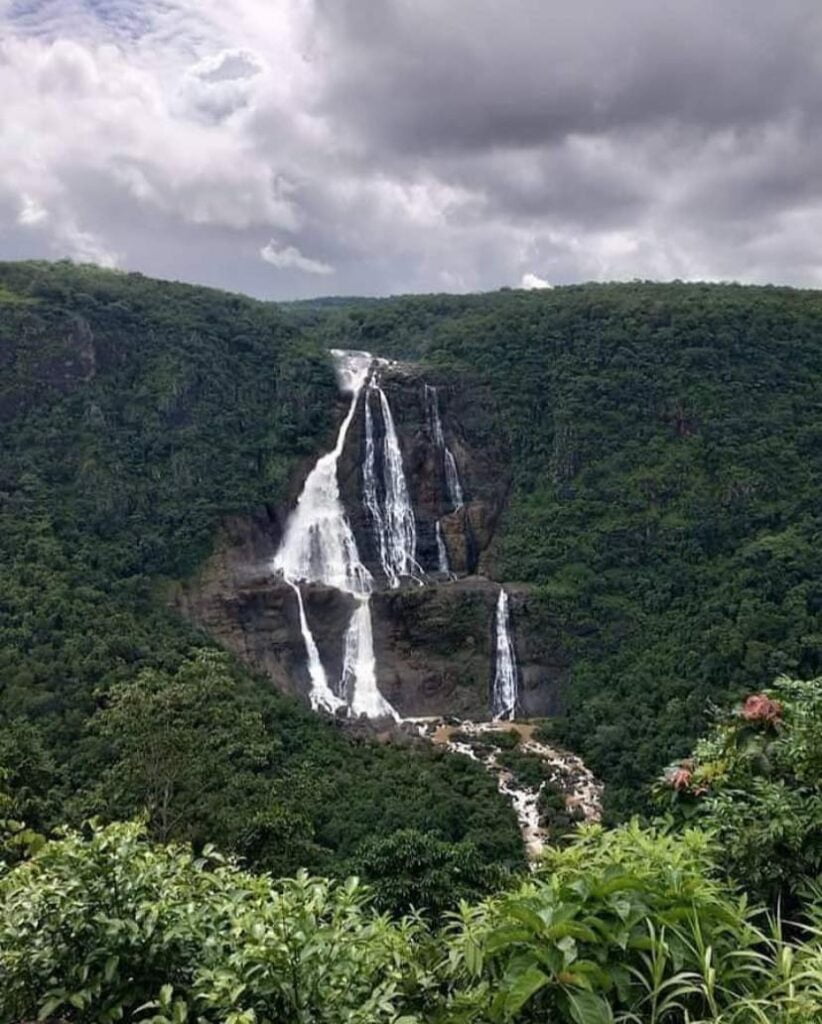 Traveling to the eastern state of Odisha, we encounter the magnificent Barehipani Falls. Cascading from a height of around 1,309 feet, this waterfall is a prominent attraction in the Simlipal National Park, offering a pristine and tranquil environment.
Read More: Top 14 Waterfalls In Madhya Pradesh To Visit In Monsoon
Barkana Falls, Karnataka
Adding to Karnataka's impressive waterfall collection, Barkana Falls descends from a height of approximately 850 feet. Nestled within the dense forests of the Western Ghats, this waterfall is a hidden treasure for trekkers and nature lovers.
Bhimlat Falls, Rajasthan
Closing our list is a surprising entry from the desert state of Rajasthan – the Bhimlat Falls. Emerging from the arid landscape, this waterfall plunges from a height of around 366 feet, offering a refreshing contrast to the surrounding terrain.
About Author