Top Natural Places to Visit in Cambodia
When people think of Cambodia, the first things that come to mind are often its rich history and stunning ancient temples like Angkor Wat. However, Cambodia also boasts a wealth of natural wonders that are just waiting to be explored. From lush forests to pristine coastlines, Cambodia's natural beauty is a hidden treasure. In this blog post, we'll introduce you to some of the top natural places to visit in Cambodia that will leave you in awe of this remarkable country.
List of Top Natural Places to Visit in Cambodia
Mondulkiri Province
Cardamom Mountains
Koh Rong Samloem
Preah Vihear Temple and Kulen Mountain
Kep National Park
Bokor Hill Station
Ream National Park
Tonle Sap Lake
Kirirom National Park
Kratié
Natural Places to Visit in Cambodia
Mondulkiri Province
Located in the northeast of Cambodia, Mondulkiri is a paradise for nature enthusiasts. Explore lush green forests, rolling hills, and cascading waterfalls. The famous Sen Monorom Waterfall is a must-visit, and you can even interact with rescued elephants at the Elephant Valley Project.
Read More: The Best Natural Places to Visit in Laos
Cardamom Mountains
The Cardamom Mountains in southwestern Cambodia are one of the last remaining unspoiled wilderness areas in Southeast Asia. Trek through dense forests, encounter diverse wildlife, and experience the pristine beauty of this region. The Chi Phat community-based ecotourism project offers a chance to explore this area sustainably.
Read More: Top 12 Natural Places to Visit in Bangladesh
Koh Rong Samloem
If you're looking for a tropical paradise, Koh Rong Samloem is an idyllic island off the coast of Sihanoukville. It offers white sandy beaches, crystal-clear waters, and vibrant coral reefs for snorkeling and diving.
Preah Vihear Temple and Kulen Mountain
Combining culture and nature, Preah Vihear Temple is located atop a cliff in the Dângrêk Mountains. Nearby, Phnom Kulen (Kulen Mountain) is known for its waterfalls and lush forests. It's a sacred site and a great place to cool off in natural pools.
Read More: Natural Tourist Attractions in South India
Kep National Park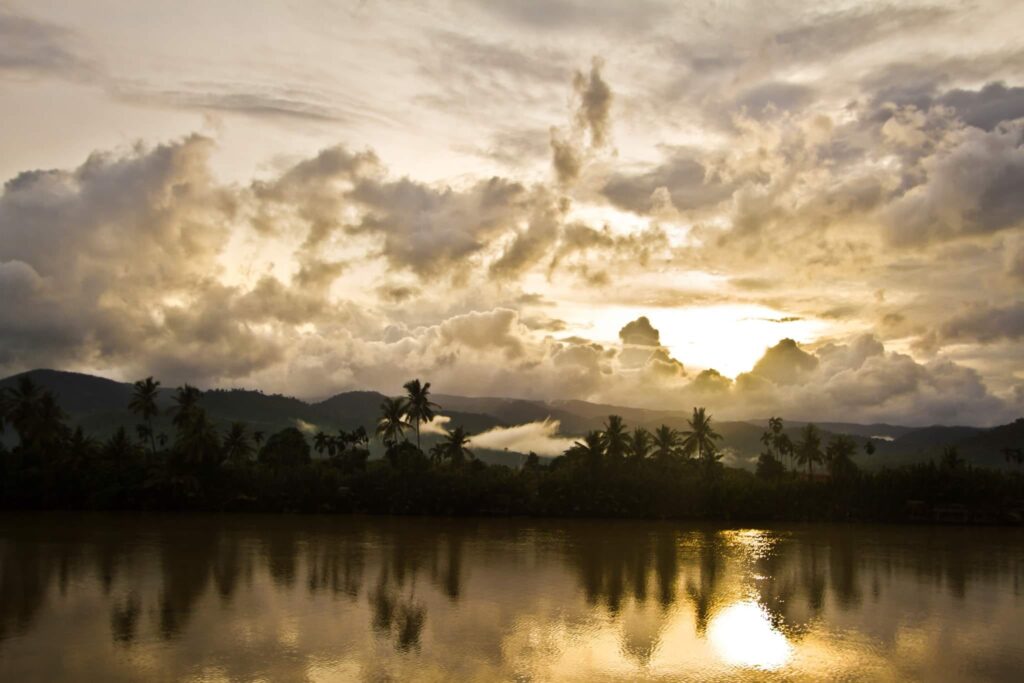 Kep, a coastal town, is home to Kep National Park. Explore the park's trails, where you'll find lush forests, viewpoints overlooking the Gulf of Thailand, and the famous "Secret Lake."
Bokor Hill Station
Bokor Hill Station, near Kampot, offers a unique blend of history and nature. Explore the abandoned French colonial buildings and take in panoramic views of the coast from the mountain's summit.
Read More: Top 12 Natural Places to Visit in Thailand
Ream National Park
Just a short drive from Sihanoukville, Ream National Park is a coastal haven for wildlife and birdwatching. Take a boat ride along the mangrove-lined waterways and keep an eye out for dolphins and various bird species.
Tonle Sap Lake
Tonle Sap is the largest freshwater lake in Southeast Asia and a UNESCO Biosphere Reserve. Take a boat tour to explore the floating villages, see unique stilted houses, and witness the vibrant daily life of the local fishing communities.
Read More: Top 10 Natural Places to Visit in Myanmar
Kirirom National Park
Located about two hours from Phnom Penh, Kirirom National Park is a cool and refreshing retreat. It offers hiking trails, waterfalls, and a picturesque lake perfect for a day trip.
Kratié
Kratié, along the Mekong River, is famous for its serene atmosphere and a chance to see the endangered Irrawaddy dolphins. Boat tours in the early morning or late afternoon offer the best opportunity to spot these gentle creatures.
Read More: Best Natural Tourist Attractions in Nepal
Conclusion
Cambodia's natural beauty is as diverse as it is breathtaking. From pristine islands and lush mountains to tranquil lakes and dense forests, this country is a paradise for nature lovers. Exploring these top natural places in Cambodia not only provides an escape into the wild but also allows you to appreciate the country's efforts to preserve its natural heritage. Don't miss the chance to discover the hidden natural gems that Cambodia has to offer on your next adventure.
About Author