10 Best Places to Visit in Glacier National Park
Glacier National Park in Montana, USA, is a wilderness paradise known for its pristine landscapes, rugged mountains, and breathtaking glacial-carved valleys. With over a million acres of protected wilderness, it offers visitors a glimpse into the beauty and wonder of the natural world. In this blog post, we'll explore the top 10 must-visit places within Glacier National Park.
List of 10 Best Places to Visit in Glacier National Park
Going-to-the-Sun Road
Logan Pass
Avalanche Lake
Lake McDonald
Many Glacier
Grinnell Glacier
Two Medicine
Waterton Lakes National Park (Canada)
St. Mary Valley
Polebridge and Bowman Lake
Best Places to Visit in Glacier National Park
Going-to-the-Sun Road:
This iconic mountain highway spans 50 miles through the heart of the park, offering stunning vistas and access to many of the park's attractions. The drive is an adventure in itself, with its winding roads and breathtaking overlooks.
Read More: Best Natural Places to Travel in Russia
Logan Pass: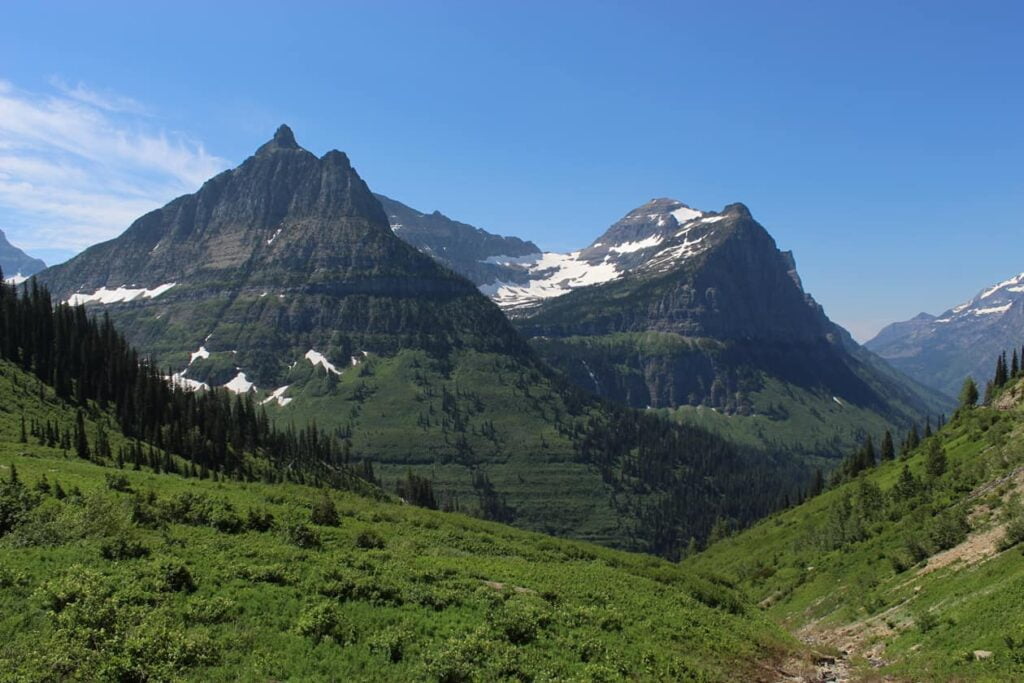 At the summit of Going-to-the-Sun Road, you'll find Logan Pass, a high-mountain saddle offering hiking trails with panoramic views. The Hidden Lake Overlook Trail is a popular choice, allowing you to glimpse the park's wildlife and alpine beauty.
Avalanche Lake:
A relatively short hike leads to the serene Avalanche Lake, nestled beneath towering cliffs. The emerald waters of the lake are surrounded by lush forests, creating a picture-perfect alpine setting.
Read More: Top Natural Tourist Attractions in Uttarakhand
Lake McDonald:
This pristine glacial lake is the largest in the park and offers boating, fishing, and breathtaking sunsets. The historic Lake McDonald Lodge provides a charming place to stay or dine.
Many Glacier:
Often referred to as the "Switzerland of North America," Many Glacier is known for its dramatic landscapes, including stunning lakes like Swiftcurrent Lake and Josephine Lake. It's also a great starting point for hiking adventures.
Read More: Top 10 Most Beautiful Waterfalls in the World
Grinnell Glacier:
The Grinnell Glacier Trail is a challenging but rewarding hike that takes you to one of the park's most iconic glaciers. Along the way, you'll witness alpine meadows and stunning views of glaciers and glacial lakes.
Two Medicine:
This lesser-known area of the park is a tranquil gem. Take a boat tour on Two Medicine Lake, hike to Twin Falls, and explore the historic Two Medicine Store.
Read More: Best Natural Tourist Attractions in Nepal
Waterton Lakes National Park (Canada):
Connected to Glacier National Park across the international border, Waterton Lakes offers its own breathtaking scenery, including the iconic Red Rock Canyon and the serene Upper Waterton Lake.
St. Mary Valley:
St. Mary is a picturesque valley with incredible scenery and access to the East Glacier area. The St. Mary Visitor Center is a great place to start your exploration.
Read More: Top 12 Natural Places to Visit in Canada
Polebridge and Bowman Lake:
For those seeking a more remote experience, the drive to Polebridge and the hike to Bowman Lake are worth the effort. The pristine lake and rustic bakery in Polebridge are a delightful reward.
Read More: Seven Wonders of the Natural World
Conclusion
Glacier National Park is a treasure trove of natural wonders, from majestic mountains and pristine lakes to breathtaking glaciers and abundant wildlife. Whether you're exploring the iconic Going-to-the-Sun Road, embarking on challenging hikes, or simply enjoying the tranquility of a mountain lake, Glacier National Park offers a unique and unforgettable experience. As you explore these top 10 destinations within the park, you'll not only be immersed in nature's beauty but also reminded of the importance of preserving and protecting these incredible landscapes for future generations to enjoy.
About Author