10 Most Challenging Pilgrimages in India: A Spiritual Odyssey of Dedication
India is a diverse and spiritually rich land where unwavering faith often inspires pilgrims to embark on arduous journeys to sacred destinations. These pilgrimages often entail traversing steep terrains, braving extreme weather conditions, and testing the limits of physical and mental endurance. In this blog post, we will delve into eight of India's most challenging pilgrimages, where the path to spiritual enlightenment is as formidable as the destination itself.
Most Challenging Pilgrimages in India
Kedarnath: The Himalayan Quest
Nestled in the Garhwal Himalayas, Kedarnath is a prominent site on the Chota Char Dham circuit in Uttarakhand. The Kedarnath Temple, dedicated to Lord Shiva, is one of the twelve Jyotirlingas and Panch Kedar temples. Pilgrims embark on a 14-kilometer trek from Gaurikund to Kedarnath, traversing challenging terrain while soaking in the spiritual aura and natural beauty of the region.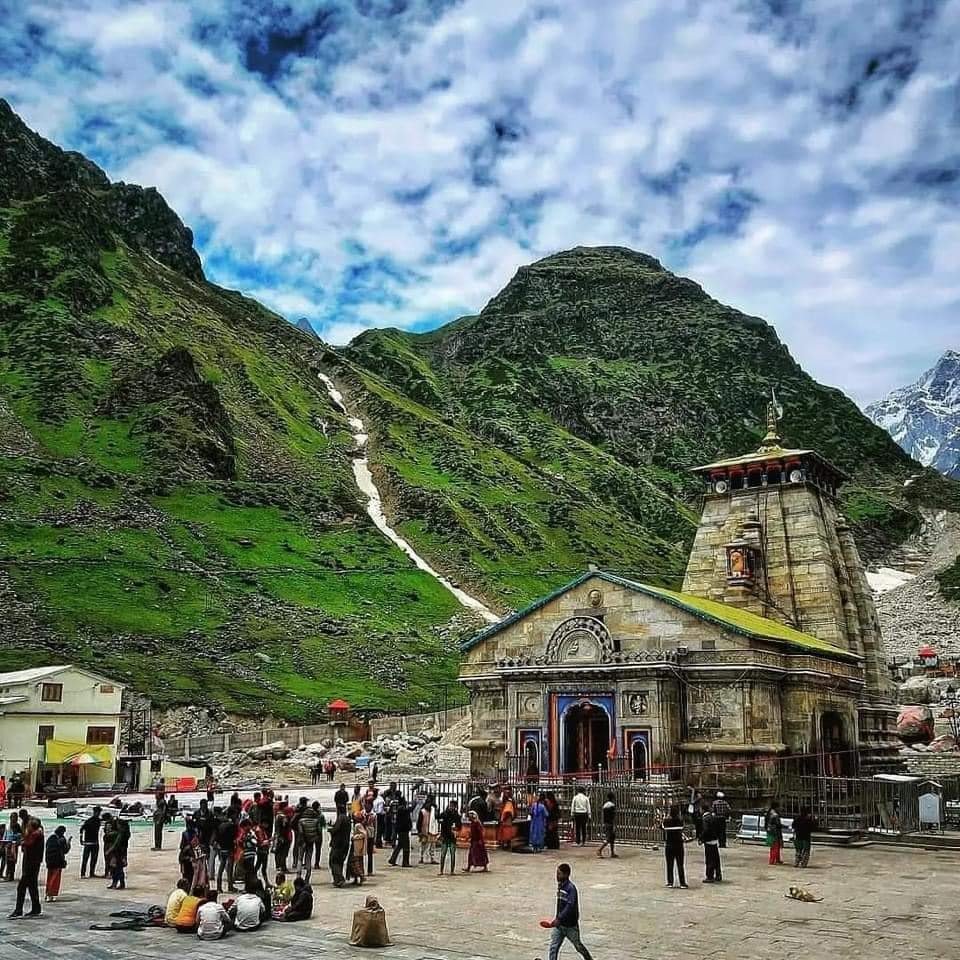 Location: Rudraprayag district, Uttarakhand
Best Time to Visit: May to June & September to October
Elevation: 3,584 meters
Nearby Attractions: Chorabari Tal, Sonprayag, Bhairavnath Temple, Deoria Tal
Read More: Top Places To Visit In India With A View Above The Clouds
Kailash Mansarovar: The Himalayan Abode of Divinity
Situated at a staggering altitude of 6,638 meters, Mount Kailash in Tibet is a revered holy site for Hindus, Buddhists, Jains, and followers of the Bon culture. The journey includes a visit to Lake Mansarovar, located 20 kilometers from Mount Kailash. Pilgrims undertake the Kailash Mansarovar Yatra, which involves a sacred dip in Lake Mansarovar and circumambulation (parikrama) of Mount Kailash.
Location: South-West corner of Tibet Himalayas
Elevation: 21,778 feet
Best Time to Visit: April to June and September to October
Major Attractions: Lake Mansarovar, Gauri Kund, Kailash Parikrama, Lake Rakshatal
Amarnath Cave Temple, Jammu & Kashmir: A Snowy Sanctuary
Amid the breathtaking landscapes of Jammu & Kashmir, the Amarnath Cave Temple stands at an elevation of 3,888 meters. This cave temple is dedicated to Lord Shiva, and devotees revere the naturally formed Shiva Linga, which emerges from snow. It's one of the 18 Maha Shakti Peethas, and the annual Amarnath Yatra is a challenging pilgrimage that requires unwavering devotion.
Read More: Most Beautiful Lakes Of The Himalayan Mountain Range
Location: Jammu & Kashmir, 141 km from Srinagar
Best Time to Visit: June to August
Nearby Attractions: Baltal, Pahalgam
Hemkund Sahib: Sikh Pilgrimage to the Stars
Hemkund Sahib, the highest Gurudwara for Sikhs, is located in the Chamoli district of Uttarakhand. This beautiful star-shaped Gurudwara is surrounded by lush greenery against the backdrop of the Himalayas. Pilgrims embark on a pilgrimage to Hemkund Sahib, which involves a holy dip in the freezing waters of Hemkund Lake and a trek starting in May.
Best Time to Visit: May and October
Elevation: 4,632 meters
Location: Chamoli district, Uttarakhand
Nearby Attractions: Mana, Joshimath, Auli, Badrinath
Read More: Best Places for Tracking In Uttrakhand
Shikhar Ji Temple: Jain Pilgrimage of Enlightenment
Located atop Parasnath Hill in Giridih district, Jharkhand, Shikhar Ji Temple is one of the most significant Jain pilgrimage sites (Jain Tirtha). It is believed that 20 out of the 24 Jain Tirthankaras attained Moksha at this sacred place. To reach the temple, devotees undertake a challenging 28-kilometer trek from Maduban, navigating steep slopes.
Location: Parasnath Hill of Giridih district, Jharkhand
Elevation: 4,480 ft
Best Time to Visit: October to March
Phugtal, Ladakh: The Remote Buddhist Retreat
Phugtal, a Buddhist Monastery in the serene Zanskar Region of Ladakh, is reachable only on foot. The monastery is built around a natural cave, where many scholars, sages, and monks once resided. Phugtal is a soulful pilgrimage spot, offering spiritual retreat and peace amidst the pristine surroundings.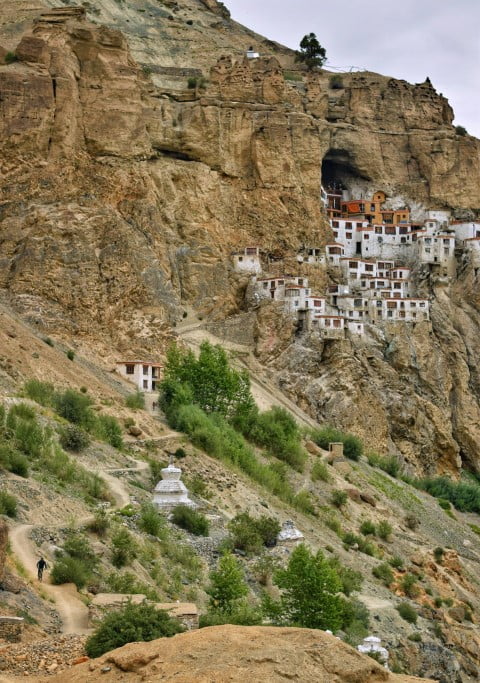 Location: Lungnak Valley in south-eastern Zanskar
Best Time to Visit: July to September
Nearby Attractions: Ammu & Cha villages, Bardan monastery
Elevation: 3,850 meters
Read More: Top Religious Places Situated On the Hill in Uttarakhand
Vaishno Devi Temple, Jammu & Kashmir: A Devotee's Challenge
The holy shrine of Vaishno Devi in Katra, Jammu & Kashmir, is dedicated to the Indian Goddess Vaishno Devi. Maa Vaishno Devi is worshipped in the cave temple as pindis (stone representation). Pilgrims embark on a challenging 13-kilometer trek from Katra, the base camp. Ponies, palkies/horses, and helicopter services are also available for devotees.
Location: Trikuta Mountains, Katra in Jammu & Kashmir
Best Time to Visit: October-July
Elevation: 5,200 ft
Nearby Attractions: Ardh Kuwari Cave, Bhairavnath temple, Katra
Shrikhand Mahadev: The Himalayan Journey to Lord Shiva
Located in Himachal Pradesh's Kullu District, Shrikhand Mahadev is a renowned pilgrimage site close to the hearts of Lord Shiva devotees. The pilgrimage involves a challenging trek amidst the splendid Himalayas, offering breathtaking views of lush greenery.
Location: Kullu, Himachal Pradesh
Elevation: 5,227 meters
Best Time to Visit: June and July
Read More: Exploring the Top 11 Mountain Peaks in the World
Kedarkantha Expedition: A Himalayan Trekking Marvel
The Kedarkantha Expedition stands as a revered trekking adventure in the heart of Uttarakhand, India. This captivating journey leads trekkers to the summit of Kedarkantha, renowned for its awe-inspiring vistas of the surrounding Himalayan peaks, making it a must-visit destination for outdoor enthusiasts and adventurers.
Location: Garhwal Himalayas of Uttarakhand, India.
Best Time to Visit: December to April
Trek Duration: The Kedarkantha trek typically spans over 5 to 6 days
Altitude: The trek leads adventurers to an elevation of approximately 3,800 meters
Read More:  Natural and Inaccessible Route from Jammu to the Holy Amarnath Cave
Kinner Kailash Yatra: A Spiritual Sojourn in Himachal Pradesh
The Kinner Kailash Yatra is a deeply spiritual pilgrimage to the revered Kinner Kailash mountain, also known as Kinnaur Kailash. Situated in the Kinnaur district of Himachal Pradesh, India, this sacred journey holds immense significance for both Hindu and Buddhist devotees, offering a profound blend of spirituality and cultural immersion.
Location: Kinnaur district of Himachal Pradesh, near the border with China
Best Time to Visit: June to September
Altitude: The pilgrimage leads pilgrims to a challenging altitude of approximately 6050 meters
About Author