Best Places to Visit in June in India – 2023
June is the month when summer is at its peak in most parts of India. It is a great time to escape the scorching heat and explore the country's picturesque destinations. Whether you're seeking cool mountains, serene beaches, or lush green landscapes, India has it all. Here are the top 10 places to visit in June in India in 2023, offering a perfect blend of natural beauty, adventure, and cultural experiences.
1. Leh-Ladakh, Jammu and Kashmir
Leh-Ladakh, located in the state of Jammu and Kashmir, is a paradise for adventure enthusiasts and nature lovers. In June, the region experiences mild temperatures and clear skies, making it the perfect time to explore its stunning landscapes, picturesque monasteries, and indulge in thrilling activities like trekking, river rafting, and biking.
2. Manali, Himachal Pradesh
Nestled in the lap of the Himalayas, Manali is a popular hill station known for its breathtaking beauty and pleasant weather in June. The snow-capped mountains, gushing rivers, and lush valleys create a picturesque backdrop for activities like paragliding, hiking, and exploring the nearby Solang Valley.
Read More: Top 10 Must-Visit Places in Madhya Pradesh
3. Ooty, Tamil Nadu
Ooty, often referred to as the "Queen of Hill Stations," is a charming destination in Tamil Nadu. In June, the weather in Ooty is pleasant, with occasional showers that enhance its natural beauty. Take a ride on the Nilgiri Mountain Railway, explore the tea estates, and enjoy the serene beauty of the Botanical Gardens and Ooty Lake.
4. Munnar, Kerala
Munnar, situated in the Western Ghats of Kerala, is a haven for nature lovers. June brings refreshing showers to this hill station, rejuvenating its tea plantations, waterfalls, and wildlife sanctuaries. Explore the Eravikulam National Park, visit the Mattupetty Dam, and enjoy the panoramic views of the surrounding valleys and mountains.
Read More: Discover the Hidden Gems: 10 Must-Visit Places in Madhya Pradesh
5. Darjeeling, West Bengal
Darjeeling, famous for its tea gardens and the majestic Kanchenjunga peak, is a captivating destination in West Bengal. In June, the mist-covered hills and the pleasant weather create a romantic ambiance. Take a ride on the Darjeeling Himalayan Railway, visit the Tiger Hill viewpoint, and immerse yourself in the vibrant local culture.
6. Coorg, Karnataka
Coorg, also known as Kodagu, is a scenic hill station in Karnataka known for its coffee plantations and lush greenery. In June, Coorg experiences a refreshing monsoon, enhancing its natural beauty. Explore the Abbey Falls, go trekking in the Brahmagiri Hills, and savor the aroma of freshly brewed coffee in this tranquil paradise.
7. Shimla, Himachal Pradesh
Shimla, the capital of Himachal Pradesh, is a popular summer retreat famous for its colonial charm and breathtaking vistas. In June, the weather in Shimla is pleasant, offering a respite from the summer heat. Stroll along the Mall Road, visit the Viceregal Lodge, and enjoy panoramic views from the Jakhoo Hill.
Read More: Top Natural Places To Visit In Madhya Pradesh State
8. Rishikesh, Uttarakhand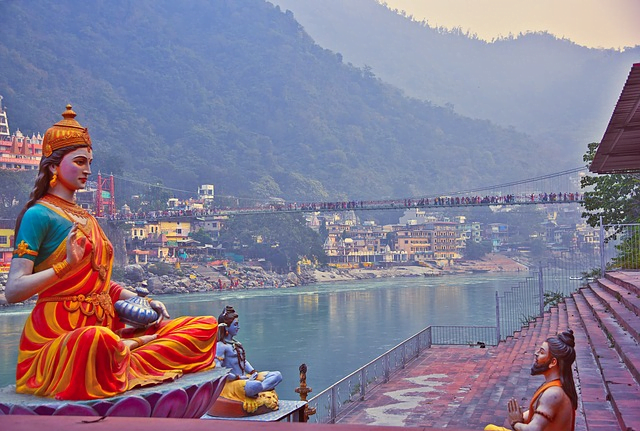 Rishikesh, situated on the banks of the holy Ganges River in Uttarakhand, is a spiritual and adventure hub. In June, the weather is favorable for outdoor activities like river rafting, camping, and trekking. Explore the famous ashrams, attend yoga and meditation sessions, and experience the divine atmosphere of this sacred town.
9. Goa
Goa, the beach paradise of India, is a popular destination all year round. In June, the monsoon showers bring a different charm to the state. While beach activities may be limited, you can enjoy the lush green landscapes, visit the Dudhsagar Waterfalls, explore the spice plantations, and savor the delicious Goan cuisine.
10. Pachmarhi, Madhya Pradesh
Pachmarhi, located in the Satpura Range of Madhya Pradesh, is a serene hill station known for its natural beauty and ancient caves. In June, Pachmarhi experiences mild temperatures and occasional showers, making it an ideal getaway. Explore the Pandav Caves, visit the Bee Falls, and enjoy the tranquility of this lesser-known gem.
FAQs
1. Q: Is it safe to visit these places in June?
A: Yes, it is generally safe to visit these places in June. However, it is advisable to check weather conditions and follow safety guidelines during monsoon season.
2. Q: Do I need to carry specific clothing for these destinations in June?
A: It is recommended to carry light and breathable clothing, along with a raincoat or umbrella, as June is the monsoon season in most of these regions.
3. Q: Are there any precautions to take during the monsoon season?
A: It is advisable to be cautious while trekking or engaging in adventure activities during heavy rainfall. Stay updated on weather forecasts and follow the guidance of local authorities.
4. Q: Can I find accommodation easily in these destinations during June?
A: Yes, most of these destinations offer a wide range of accommodation options, but it is recommended to make advance bookings, especially for popular tourist spots.
5. Q: Are there any cultural festivals or events in June in these places?
A: Some destinations may host local festivals or cultural events in June. It is advisable to check the local events calendar for specific dates and celebrations.
About Author