Pench National Park & Tiger Reserve, Madhya Pradesh
Pench National Park, situated in the central Indian state of Madhya Pradesh, is a renowned wildlife sanctuary and one of the premier tiger reserves in India. Named after the Pench River that flows through the park, it's a captivating natural haven with a rich diversity of flora and fauna. Here's an in-depth look at Pench National Park in Madhya Pradesh:
Location:
Pench National Park is located in the southern part of Madhya Pradesh, near the border with Maharashtra. It spans across two states, with a portion of the park in Maharashtra as well.
Read More: Top 10 Natural Destinations in Madhya Pradesh
Wildlife:
Tigers
Pench is famous for its tiger population, and the park offers excellent opportunities for tiger sightings. The tigers found in Pench National Park are famous for their unique characteristics, which attract both wildlife lovers and photographers.
Leopards
Alongside tigers, leopards also roam the park, though they are more elusive.
Read More: Top Natural Places to Visit in India in November
Indian Bison (Gaur)
The Indian bison, or gaur, is another prominent resident of Pench National Park. These massive herbivores can often be spotted grazing in the meadows.
Spotted Deer, Sambhar, and More
The park is home to various species of deer, including spotted deer, sambar deer, barking deer, and chital. Other herbivores like the four-horned antelope, wild boars, and langurs are also found here.
Read More: Top 10 Must-Visit Places in Madhya Pradesh
Birds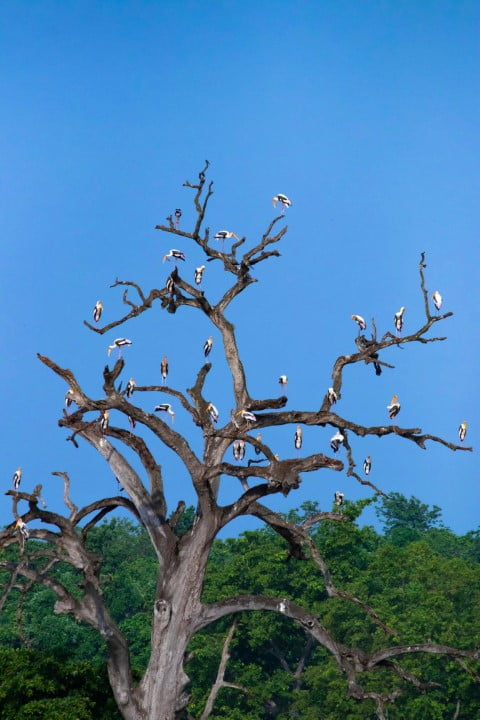 Pench is a haven for birdwatchers with over 300 species of birds, including the Indian pitta, Malabar pied hornbill, and the white-eyed buzzard.
Flora:
The park's landscape features teak forests, mixed forests, and open grasslands. The Pench River meanders through the park, offering a lifeline to the abundant wildlife. The lush vegetation and diverse plant species create a picturesque setting.
 Read More: 8 Best National Parks in Madhya Pradesh
Safari and Activities:
Visitors to Pench National Park can enjoy various activities, including wildlife safaris, birdwatching, and nature walks. The park offers both jeep safaris and elephant safaris, providing unique opportunities to explore the wilderness.
Best Time to Visit:
The park is open to visitors from October to June, with the best time for wildlife sightings being from November to April when the weather is cooler and the animals are more active.
Read More: Evergreen Tourist Places of Madhya Pradesh
Conservation Efforts:
Pench National Park has been at the forefront of tiger conservation efforts in India, and it's a part of the 'Project Tiger' initiative. The park is committed to preserving the natural habitat and promoting responsible tourism.
 Read More: Top 8 Hill Stations For Visit In Madhya Pradesh
Conclusion:
Pench National Park in Madhya Pradesh is a natural wonderland that captivates wildlife enthusiasts, nature lovers, and adventure seekers alike. Its pristine landscapes and diverse wildlife, including the majestic tigers, make it a must-visit destination for those seeking an authentic and enriching wildlife experience.
About Author