Top Tourist Places To Visit In Jammu And Kashmir
Jammu and Kashmir, located in the northern part of India, is a paradise on earth known for its stunning landscapes, snow-capped mountains, and rich cultural heritage. From breathtaking valleys to serene lakes and ancient temples, the region offers a wide range of tourist attractions. The top tourist places to visit in Jammu and Kashmir are as follows:
1. Srinagar
Srinagar, the capital of Jammu and Kashmir, is famous for its mesmerizing Dal Lake. Take a Shikara ride on the lake and see the floating markets and beautiful houseboats. Explore Mughal gardens such as Nishat Bagh and Shalimar Bagh, and visit the historic Jama Masjid and Hazratbal Shrine.
2. Gulmarg
Gulmarg is a popular hill station and one of the best skiing destinations in India. Enjoy the breathtaking views of the snow-capped peaks, take a ride on the famous Gulmarg Gondola and indulge in various winter sports activities like skiing and snowboarding.
Read More: Top 10 Must-Visit Places in Madhya Pradesh
3. Pahalgam
Known as the "Valley of the Shepherds", Pahalgam is a picturesque town situated on the banks of the Lidder River. It offers stunning landscapes, lush meadows and enchanting hiking trails. Visit Betaab Valley, Chandanwari, and Aru Valley for an unforgettable experience.
4. Leh and Ladakh
Leh is a high altitude desert town in Ladakh known for its rugged beauty and Buddhist monasteries. Explore the ancient Leh Palace, visit the famous Shanti Stupa, and experience the breathtaking beauty of Pangong Lake and Nubra Valley.
5. Sonamarg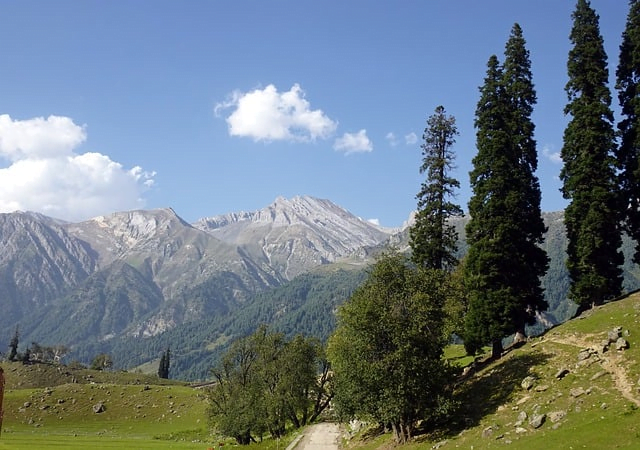 Sonamarg, meaning "Golden Field", is a beautiful hill station located in the Kashmir Valley. It serves as the starting point for the famous Amarnath Yatra pilgrimage. Enjoy stunning views of the snow-capped mountains, visit the Thajiwas Glacier, and indulge in exciting activities like trekking and horse riding.
Read More: Discover the Hidden Gems: 10 Must-Visit Places in Madhya Pradesh
6. Katra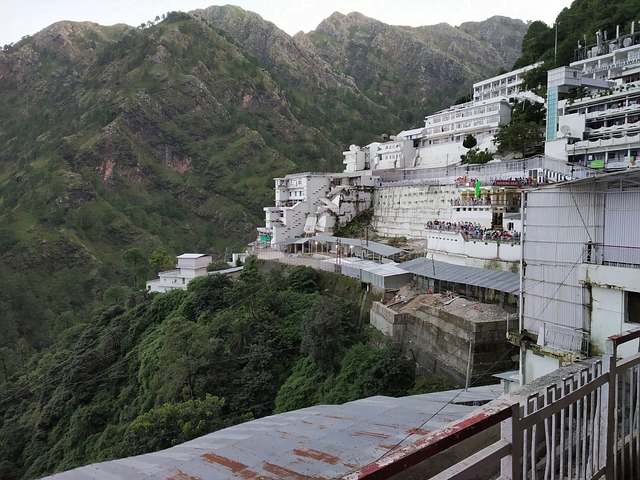 Katra is a popular pilgrimage center and is the base camp for the Vaishno Devi Temple. Trek 14 kilometers to the shrine or take a helicopter ride for a spiritual experience. Explore the nearby Baba Bhaironath Temple and enjoy the natural beauty of the Trikuta Mountains.
7. Patnitop
Patnitop is an attractive hill station situated on a plateau in Udhampur district. Enjoy panoramic views of the Himalayan range, visit Nag Mandir and Madhatop for adventure activities like paragliding and skiing, and take a leisurely stroll through the meadows.
8. Gallstones
Known as the "Valley of Milk", Dudhpathri is a hidden gem located in the Budgam district. Experience the peace of lush green meadows, pristine streams, and blooming flowers. It is an ideal place for picnics and nature walks.
Read More: Top Natural Places To Visit In Madhya Pradesh State
9. Kargil
Kargil is a city of historical importance, situated on the banks of the Suru River. Visit the Kargil War Memorial and pay homage to the brave soldiers. Explore the ancient carvings of Mulbekh Monastery and immerse yourself in the beauty of Suru Valley.
10. Kishtwar
Kishtwar is a scenic district known for its natural beauty and adventure tourism. Visit the famous Marwah Valley, visit the stunning Sarthal grasslands, and indulge in activities like mountaineering, rock climbing, and river rafting.
11. Anantnag
Anantnag is a historic city with many attractions, including the Martand Sun Temple, the Achabal Gardens and the Kokernag Springs. Explore the beautiful Lidder Valley and experience the local culture.
Read More: Best Places to Visit in June in India – 2023
12. Dachigam National Park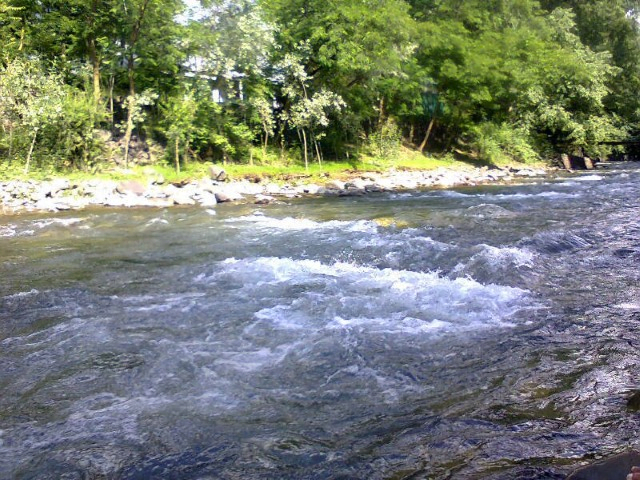 Located near Srinagar, Dachigam National Park is a wildlife sanctuary known for its rich biodiversity. It is home to endangered species such as hangul (Kashmiri reindeer) and offers opportunities for wildlife watching and bird watching.
13. Hemis National Park
Hemis National Park located in Ladakh is the largest national park in South Asia. It is known for its rare wildlife species, including the elusive snow leopard. Take a wildlife safari and see the unique flora and fauna of the region.
14. Wular Lake
Wular Lake, near Srinagar, is one of the largest fresh water lakes in Asia. Enjoy boat ride on the lake, explore the floating gardens and watch the migratory birds that visit the lake during winters.
Read More: 10 Marvelous Rock Formations in the World
15. Amarnath Cave
The Amarnath Cave is a revered Hindu pilgrimage site dedicated to Lord Shiva. This high altitude cave is known for its naturally formed ice Shivling. Do the challenging Amarnath Yatra during the summer months for a spiritual and adventurous experience.
16. Martand Sun Temple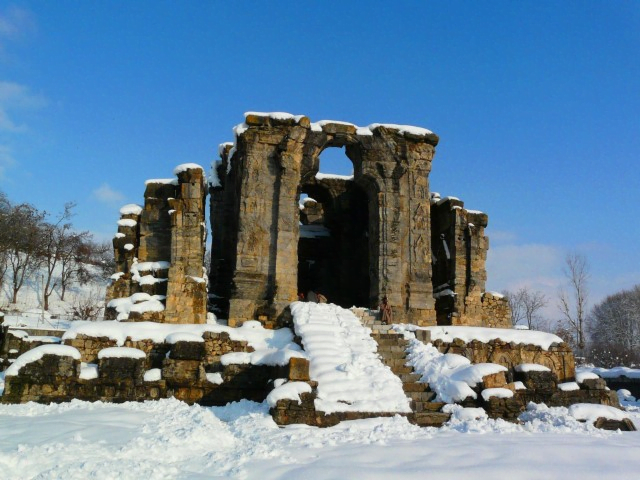 The Martand Sun Temple in Anantnag is an ancient temple dedicated to the Sun God. It showcases remarkable architecture and intricate stone carvings, providing an insight into the rich historical and cultural heritage of the region.
FAQ:
Q: What are the top tourist places to visit in Jammu and Kashmir?
A: Some of the top tourist places to visit in Jammu and Kashmir include Srinagar, Gulmarg, Pahalgam, Sonamarg, Leh, Ladakh, and the Vaishno Devi shrine.
Q: What is the best time to visit Jammu and Kashmir?
A: The best time to visit Jammu and Kashmir is during the summer months from April to June and the autumn season from September to October. The weather is pleasant, and the landscapes are breathtaking during these times.
Q: How can I reach Jammu and Kashmir?
A: Jammu and Kashmir can be reached by air, rail, and road. The region has airports in Srinagar and Jammu, and both cities are well-connected by rail. Additionally, there are several national highways that connect Jammu and Kashmir to other parts of the country.
Q: What are the must-visit places in Srinagar?
A: In Srinagar, you must visit Dal Lake, Shalimar Bagh, Nishat Bagh, Chashme Shahi Gardens, Hazratbal Shrine, and take a Shikara ride on the lake.
Q: What are the attractions in Gulmarg?
A: Gulmarg is famous for its beautiful meadows, cable car rides, skiing, and golf courses. You can also visit the Alpather Lake, Gulmarg Biosphere Reserve, and take a leisurely walk in the scenic surroundings.
Q: What can I do in Leh and Ladakh?
A: In Leh and Ladakh, you can explore ancient monasteries like Hemis Monastery, Thiksey Monastery, and Diskit Monastery. Additionally, you can visit Pangong Lake, Nubra Valley, Magnetic Hill, and experience adventurous activities like trekking, river rafting, and biking.
Q: Are there any religious places to visit in Jammu and Kashmir?
A: Yes, Jammu and Kashmir is home to several religious sites. The Vaishno Devi shrine in Katra is one of the most revered Hindu pilgrimage destinations. Other religious places include the Amarnath Cave, Shankaracharya Temple in Srinagar, and Raghunath Temple in Jammu.
Q: Are there any trekking opportunities in Jammu and Kashmir?
A: Yes, Jammu and Kashmir offer excellent trekking opportunities. The popular treks include the Kashmir Great Lakes Trek, Tarsar Marsar Trek, and the Markha Valley Trek in Ladakh.
Q: Is it safe to visit Jammu and Kashmir?
A: The safety situation in Jammu and Kashmir can vary, so it's advisable to stay updated on the current situation before planning your visit. Certain areas may have travel restrictions, so it's recommended to check with local authorities and follow their guidance.
Q: What are some unique experiences in Jammu and Kashmir?
A: Some unique experiences in Jammu and Kashmir include staying in a houseboat on Dal Lake in Srinagar, witnessing the changing colors of the Tulip Garden in Srinagar, enjoying a gondola ride in Gulmarg, and camping under the starry skies in Ladakh.
About Author